The 30-year fixed-rate mortgage averaged 4.83% for the week ending Nov. 1, 2018, sliding from 4.86% last week, but still much higher than last year's rate of 3.94%.
"While higher mortgage rates have led to a decline in home sales this year, the weakness has been concentrated in expensive segments versus entry-level and first-time buyer which remains firm throughout most of the rest of the country," Freddie Mac Chief Economist Sam Khater said.
The 15-year FRM averaged 4.23% this week, moderately decreasing from last week's 4.29%. This time last year, the 15-year FRM was 3.27%. The 5-year Treasury-indexed hybrid adjustable-rate mortgage moved to 4.04% this week, falling from 4.14% last week. However, this is still higher than this same time last year when it averaged 3.23%.
Realtor.com Chief Economist Danielle Hale said today's lower mortgage rates are a mixed bag for housing. "Builders are facing the same cost increases as other businesses. This is making it next to impossible to build entry-level homes, which could eventually hold back the homeownership growth rate," Hale said. "This week's rate is far higher than what we saw last month and therefore unlikely to entice buyers who have already called it quits."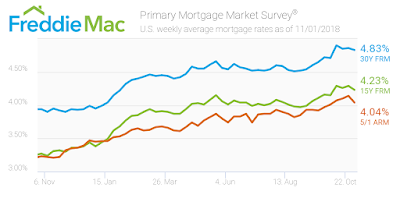 Source: Housingwire.com